Whiteford Middle / High School
Welcome to Whiteford Middle/High School
The staff of Whiteford Middle School and High School, believing that all students can learn, is dedicated to working with young people in a transitional period of life to help them increase their academic achievement. Our mission is to meet the needs of all students in a caring manner using appropriate technology so that all students can learn, achieve, and reach their highest potential. Learn More >
Calendar

‹

May

2019

›

S
M
T
W
T
F
S
1
2

May 2

3:08 PM to 4:30 PM

Kids Club

Calendar:

District Calendar

3

May 3

11:00 AM to 11:08 AM

EARLY DISMISSAL

Calendar:

District Calendar

Teacher professional development

4
5
6

May 6

6:00 PM to 8:00 PM

Board of Education Special Meeting

Location:

High School Library

Calendar:

District Calendar

7

May 7

7:00 PM to 9:00 PM

WRC Meeting

Calendar:

Middle/High School

8

May 8

6:00 PM to 8:00 PM

Girl Scouts Troop Meeting

Calendar:

District Calendar

9

May 9

8:00 AM to 6:00 PM

Flower Sale Pick-Up

Location:

Outside Bus Garage

Calendar:

Middle/High School

3:08 PM to 4:30 PM

Kids Club

Calendar:

District Calendar

10
11
12
13

May 13

9:00 AM to 10:00 AM

Kindergarten Orientation

Calendar:

District Calendar

6:00 PM to 8:00 PM

Board of Education Meeting

Location:

High School Library

Calendar:

District Calendar

14
15

May 15

3:00 PM to 5:00 PM

Elementary Movie Night

Calendar:

District Calendar

16

May 16

3:08 PM to 4:30 PM

Kids Club

Calendar:

District Calendar

7:00 PM to 9:00 PM

HS Band/Choir Concert & Awards

Calendar:

Middle/High School

17

May 17

8:00 AM to 3:00 PM

WPA Spring Carnival

Location:

Elementary Cafeteria / Side Yard

Calendar:

District Calendar

18
19
20

May 20

1:00 PM to 2:30 PM

Mini-Society Market Day

Calendar:

District Calendar

21

May 21

8:05 AM to 9:00 AM

WPA Meeting

Location:

Elementary Cafeteria

Calendar:

District Calendar

8:30 AM to 9:40 AM

Mini-Society Market Day

Calendar:

District Calendar

22

May 22

1:00 PM to 2:30 PM

Mini-Society Market Day

Calendar:

District Calendar

6:00 PM to 8:00 PM

Girl Scouts Troop Meeting

Calendar:

District Calendar

23

May 23

3:08 PM to 4:30 PM

Kids Club

Calendar:

District Calendar

24

May 24

8:30 AM to 9:40 AM

Mini-Society Market Day

Calendar:

District Calendar

3:00 PM to 5:00 PM

MS BattleCats Dance

Calendar:

Middle/High School

25
26
27

May 27

NO SCHOOL: Memorial Day

Calendar:

District Calendar

28

May 28

7:00 PM to 9:00 PM

MS Band/Choir Concert & Awards

Calendar:

Middle/High School

29
30
31

May 31

7:00 PM to 9:00 PM

Commencement

Location:

Crossroads Community Church

Calendar:

Middle/High School
Four Students Named to State Honors Choir
Congratulations to TAYLOR YOUNT, KASEY EBERSOLE, ADAM LENHART AND JOHN ROSCOE, for qualifying for the State Honors Choir this year. They will perform at the Michigan Music Conference in January in Grand Rapids, Michigan.
MS Students of the Month
The Middle School students of the month are chosen by the middle school faculty based on a specific character trait for the month, with the month of April being "respectful". Recipients for the month are Avery Cousino (6th grade), Abigail Johnson (7th grade) and Shea Ruddy (8th grade). Congratulations!!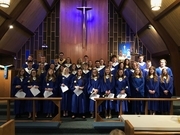 NHS Inducts New Members
The Whiteford High School National Honor Society welcomed 21 new members into their chapter today at a ceremony at St. Michael Lutheran Church in Ottawa Lake. These new members join 16 current members to bring our 2018-19 membership to a total of 37 students. We are proud of each and every one of our students for their commitment to self and others and look forward to watching their leadership skills impact their peers, our community, and others outside of Whiteford High School. Congratulations! A special thank you to St. Michael's for their generosity in using the church for this ceremony. We appreciate your partnership with our district.
Whiteford Middle / High School
6655 Consear Road
Ottawa Lake, MI 49267
Phone: 734-856-1443
Fax: 734-856-2564
Office Hours
7:15 AM - 4:00 PM
6:30 AM - 3:00 PM (summer;
closed 7/4; 7/9-8/5/18)
School Hours
7:55 AM - 2:55 PM (full days)
7:55 AM - 11:00 AM (half days)
Resources

MS/HS Handbook