MS/HS News & Announcements
MS/HS News & Announcements

View Archives
June 2, 2023
FFA FINAL SALE!
Hey, Bobcats! It's the final sale (for real) for the FFA Greenhouse. Please consider coming out and supporting our FFA students! Check out the flyer below for all the details!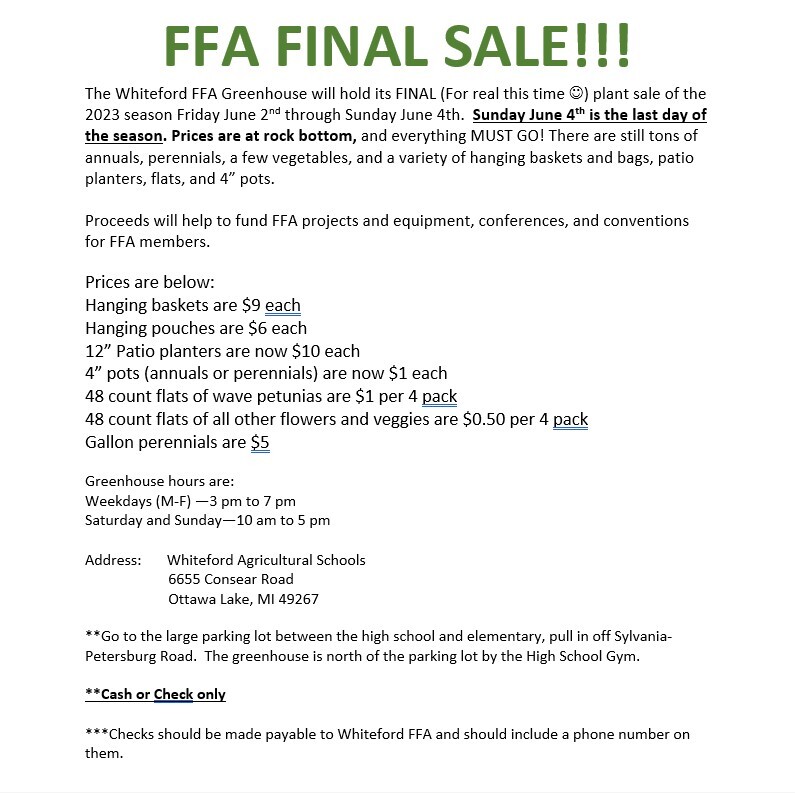 June 2, 2023
MS/HS Bobcat Blitz 6/2/23
May 31, 2023
Class of 2023 Senior Parade/Senior Sunset
Hey, Bobcats! The Senior Parade and Senior Sunset will take place tonight. All seniors will need to arrive at Crossroads Community Church this evening at 5:45pm to line up, and the parade will start promptly at 6:00pm. The parade route is outlined in the flyer below, and all seniors are invited to Senior Sunset at Whiteford High immediately following the parade to close out the 22-23 school year together (seniors, please meet in the HS Gym or right outside the gym doors on the side lawn, and don't forget to bring a blanket or a lawn chair)! Enjoy these special events, everyone!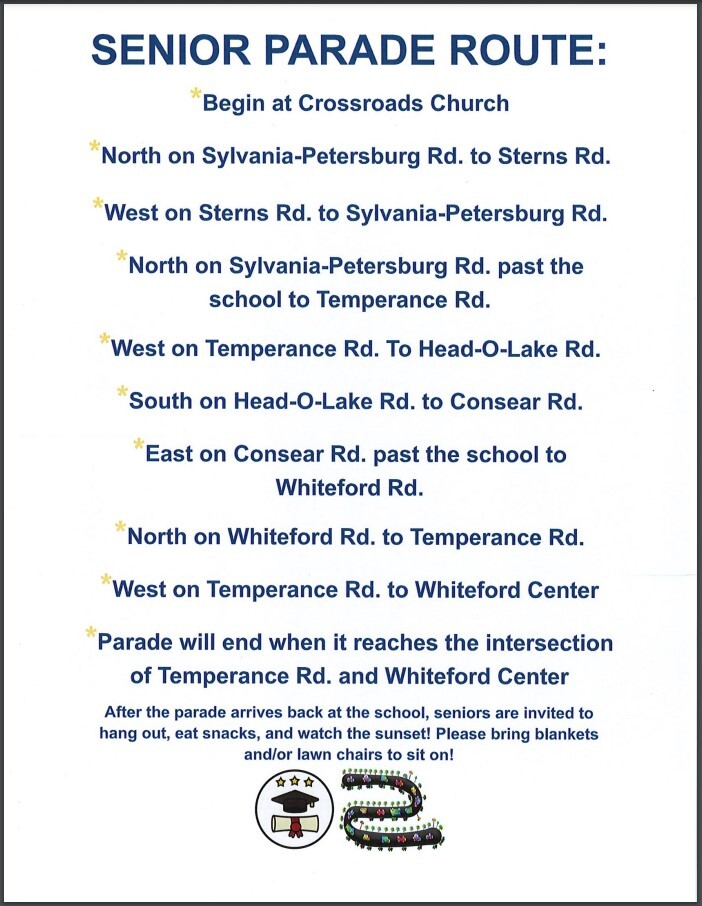 May 30, 2023
Superintendent Family Bulletin 5/29/23
May 26, 2023
MS/HS Bobcat Blitz 5/26/23
May 25, 2023
MHSAA State Qualifiers
Hey, Bobcats! If you see these MHSAA 2023 Track & Field State Qualifiers, wish them luck!! On Saturday, June 3rd, Annabelle, Mackenzie, Keegan, Stepan, Cooper, Elliott (front row), Shea, Dylan, Kolby, Ryin, and Jake (back row), will be competing in Kent City, Michigan at the MHSAA State Track & Field Championships! Congratulations to all of these exceptional athletes and to their outstanding coaches, as well! Team, your Bobcat family is proud of you all and SO excited to watch you fly! For information about the meet, click the link below. I'm sure our runners would love to have you there cheering them on every step of the way!
MHSAA Track & Field State Finals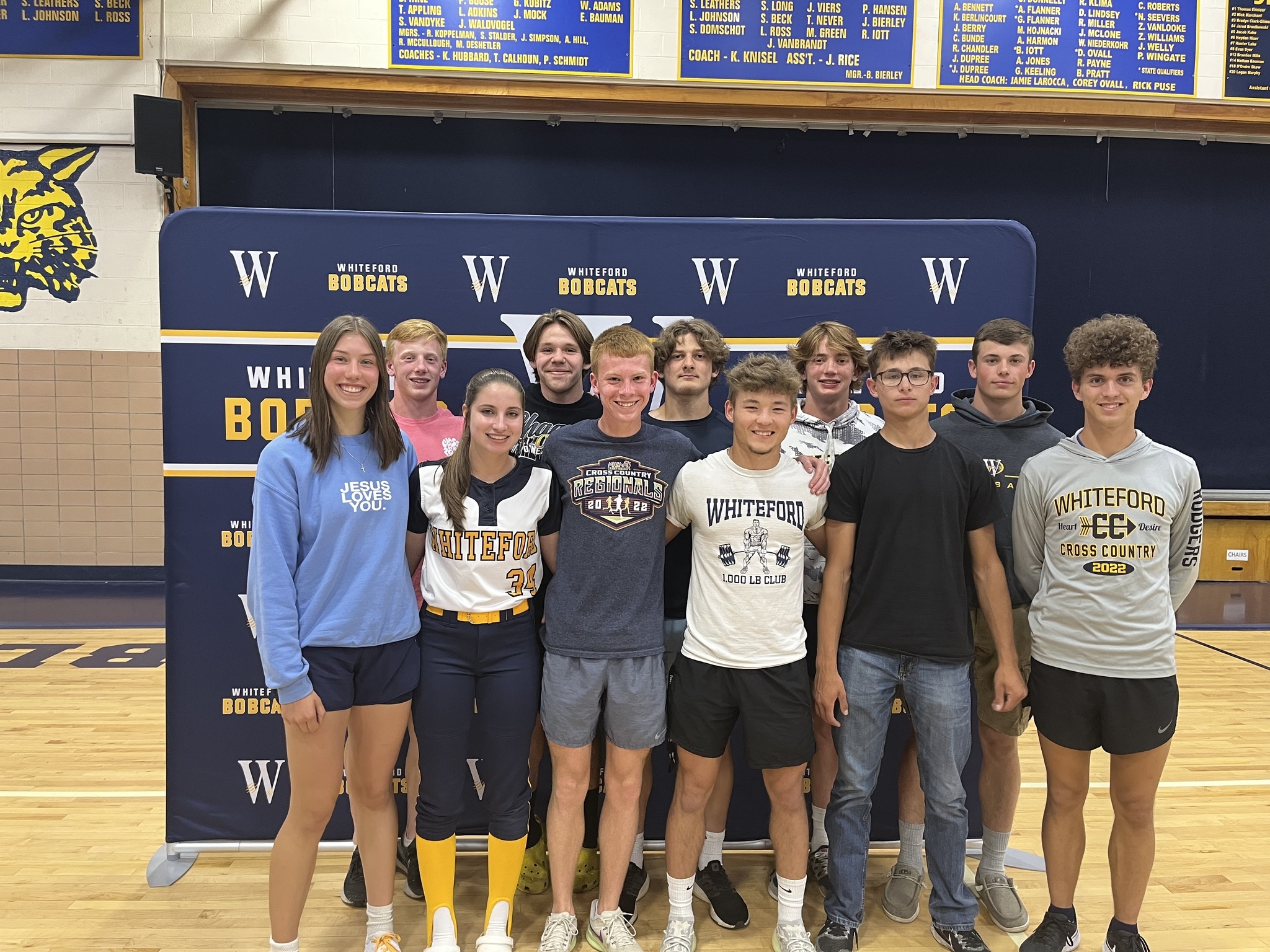 May 24, 2023
Track & Field Highlight
Hey, Bobcats! Check out this article from the MHSAA featuring two of Whiteford's outstanding track athletes. Shea and Ryin are helping their talented teammates chase down success!
MHSAA Article
May 22, 2023
Dylan Signs with Concordia University Track Team
Hey, Bobcats! Join us in wishing congratulations to Dylan for signing with Concordia University's Track Team! We wish him all the very best as he soars with the Cardinals!!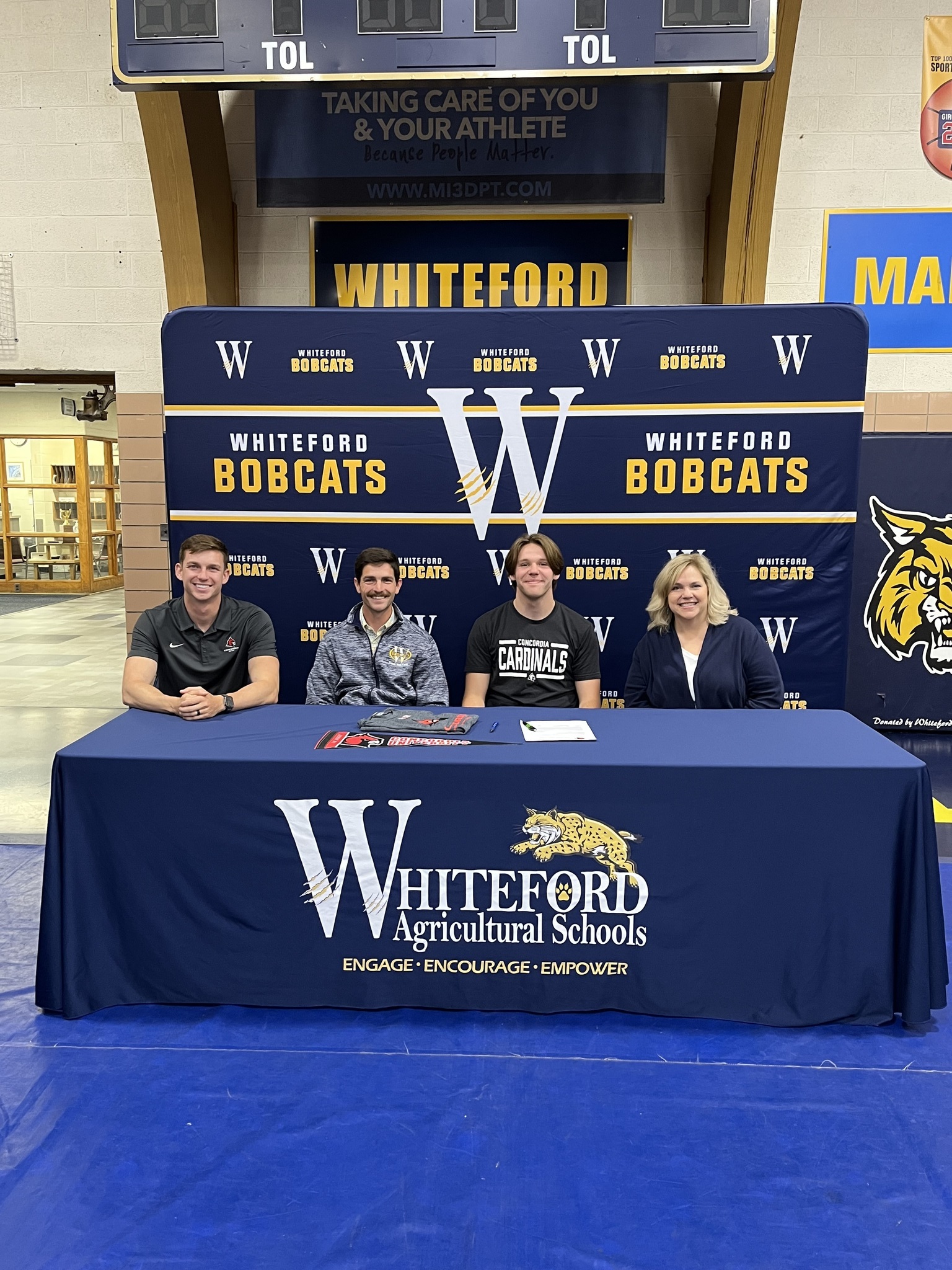 May 20, 2023
Superintendent Family Bulletin 5/20/23
May 19, 2023
MS/HS Bobcat Blitz 5/19/23