News & Announcements

April 1, 2021
School of Choice
January 5, 2021
FREE MEALS FOR ALL STUDENTS - UPDATE:
 On Friday, October 9, 2020, the U.S. Department of Agriculture (USDA) extended nationwide waivers to help schools continue to provide meals to children during the remainder of the 2020-2021 school year. Per USDA guidelines, a breakfast meal consists of 3 components (fruit, grain, and milk), a student must take all 3 components in order for the breakfast to be free. A lunch meal consists of 5 components (protein, grain, fruit, vegetable, and milk), a student must take at least 3 components to constitute a free meal and one of the components must be a fruit or vegetable.
Students are allowed one free breakfast and one free lunch per day; if a student takes a second serving they will be charged for a meal as well as any ala carte items. The process for obtaining a meal in each building remains relatively the same; the "sale" will still be recorded on the point of sale system, however your student's account will not be charged. Any ala carte purchases however require that the student have funds on their Meal Magic account.
October 9, 2020
Yearbook staff asking for help!
The high school yearbook staff is requesting your help. Parents, teachers and students can now upload pictures through the Community Upload feature for potential use in the high school yearbook. To upload your pictures, click on the link and enter the access code: 
Access Code: whiteford
Thank you for your help in documenting the 2020-2021 school year! 
Spotlights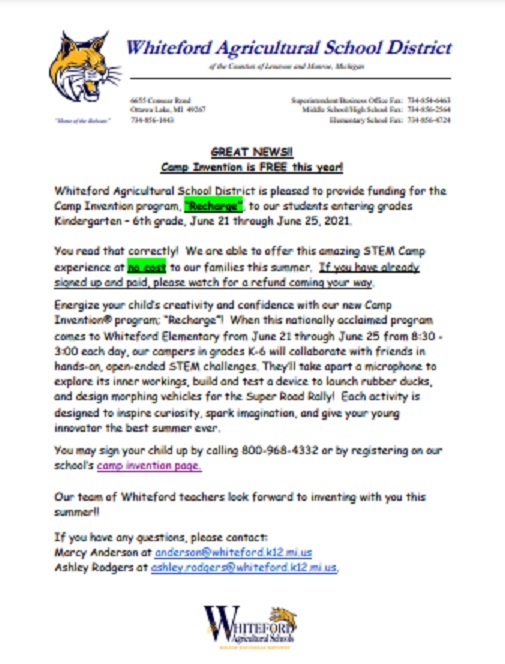 Please register for an appointment to enroll your incoming kindergartner for the upcoming school year! We are offering three appointments per each 15-minute time frame to allow our elementary enrollment coordinator the opportunity to review all of the papers needed.
We are asking that only 1 adult family member attend with your child. Please bring all of the necessary paperwork to be reviewed as your child is going through the screening process with our staff. Hearing and vision tests will also be conducted for registration at this time.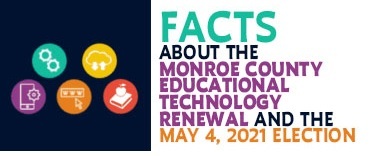 Please read more about the Tech renewal here!

OK2SAY is a confidential reporting system specifically designed to help students or anyone report potential harm or criminal activity directed at school students, school employees, and schools. Anyone that know about a student safety threat can submit a tip to OK2SAY program operators by phone, text message, email, mobile app, or via the OK2SAY website. Click on the logo below for additional information.