District Calendar
Calendar

‹

December

2017

›

S
M
T
W
T
F
S
1
2

Dec 2

11:15 AM to 1:15 PM

MS Boys Basketball (A)

at Madison Tournament

District Calendar

3
4

Dec 4

8:00 AM to 3:00 PM

Santa's Workshop

CLAWS Room / Hallways

District Calendar

5:30 PM to 9:00 PM

JV / V Boys Basketball (H)

HS Gym (vs. Blissfield)

District Calendar

5

Dec 5

8:00 AM to 3:00 PM

Santa's Workshop

CLAWS Room / Hallways

District Calendar

5:30 PM to 9:00 PM

JV / V Girls Basketball (H)

HS Gym (vs. Greenhills)

District Calendar

7:00 PM to 9:00 PM

WRC Monthly Meeting

HS Library

District Calendar

6

Dec 6

8:00 AM to 3:00 PM

Santa's Workshop

CLAWS Room / Hallways

District Calendar

MS Boys Basketball (A)

at Madison Tourn (time TBA)

District Calendar

3:00 PM to 5:00 PM

After-School Movie Night

Elem Cafeteria

District Calendar

7

Dec 7

8:00 AM to 3:00 PM

Santa's Workshop

CLAWS Room / Hallways

District Calendar

MS Boys Basketball (A)

at Madison Tourn (time TBA)

District Calendar

MS Quiz Bowl (5th & 6th Grade)

Monroe ISD Professional Development Center

District Calendar

8

Dec 8

5:30 PM to 9:00 PM

JV / V Girls Basketball (A)

at Summerfield

District Calendar

9

Dec 9

MS Boys Basketball (A)

at Madison Tourn (time TBA)

District Calendar

5:30 PM to 9:00 PM

JV / V Boys Basketball (A)

at Bedford

District Calendar

10

Dec 10

5:00 PM to 8:00 PM

Football Dessert Banquet

HS Gym

District Calendar

11

Dec 11

3:00 PM to 5:00 PM

FFA Chicken Sales

Shop - MS/HS Room 11

District Calendar

4:30 PM to 7:30 PM

MS Boys Basketball (H)

HS Gym (vs. Whitmore Lake)

District Calendar

6:00 PM to 8:00 PM

Board of Education Meeting

MS Board/Community Room

District Calendar

12

Dec 12

3:00 PM to 5:00 PM

Chicken Sales

Shop - MS/HS Room 11

District Calendar

5:30 PM to 9:00 PM

JV / V Girls Basketball (H)

HS Gym (vs. Britton-Deerfield)

District Calendar

13

Dec 13

4:30 PM to 7:30 PM

MS Boys Basketball (A)

at Morenci

District Calendar

6:00 PM to 7:00 PM

Girl Scout Troop Meeting

Elem. Cafeteria

District Calendar

14

Dec 14

MS Quiz Bowl (7th & 8th Grade)

Monroe ISD Professional Development Center

District Calendar

7:00 PM to 9:00 PM

MS Band/Choir Holiday Concert

HS Gym Stage

District Calendar

15

Dec 15

MS Quiz Bowl Championship

Monroe ISD Professional Development Center

District Calendar

5:30 PM to 9:00 PM

JV / V Girls Basketball (A)

at Madison

District Calendar

16
17

Dec 17

3:00 PM to 5:00 PM

HS Band/Choir Holiday Concert

HS Gym / Stage

District Calendar

18

Dec 18

4:30 PM to 7:30 PM

MS Boys Basketball (A)

at Summerfield

District Calendar

6:00 PM to 7:30 PM

Girl Scout Meeting

Elem Cafeteria

District Calendar

19

Dec 19

6:00 PM to 6:25 PM

Elem Christmas Program (grades K-2)

HS Gym / Stage

District Calendar

7:15 PM to 8:00 PM

Elem Christmas Program (grades 3-5)

HS Gym / Stage

District Calendar

20

Dec 20

5:30 PM to 9:00 PM

JV / V Boys Basketball (H)

HS Gym (vs. Whitmore Lake)

District Calendar

21

Dec 21

11:00 AM to 11:08 AM

EARLY DISMISSAL

District Calendar

22

Dec 22

NO SCHOOL: Christmas Break

District Calendar

5:30 PM to 9:00 PM

JV / V Boys Basketball (H)

HS Gym (vs. Madison)

District Calendar

23

Dec 23

NO SCHOOL: Christmas Break

District Calendar

24

Dec 24

NO SCHOOL: Christmas Break

District Calendar

25

Dec 25

NO SCHOOL: Christmas Break

District Calendar

26

Dec 26

NO SCHOOL: Christmas Break

District Calendar

27

Dec 27

NO SCHOOL: Christmas Break

District Calendar

28

Dec 28

NO SCHOOL: Christmas Break

District Calendar

29

Dec 29

NO SCHOOL: Christmas Break

District Calendar

1:30 PM to 4:00 PM

JV / V Boys Basketball (A)

at Emmanuel Baptist Tournament

District Calendar

30

Dec 30

NO SCHOOL: Christmas Break

District Calendar

1:00 PM to 4:30 PM

JV / V Boys Basketball (A)

at Emmanuel Baptist Tournament

District Calendar

31

Dec 31

NO SCHOOL: Christmas Break

District Calendar
OK2SAY is a confidential reporting system specifically designed to help students or anyone report potential harm or criminal activity directed at school students, school employees, and schools. Anyone that know about a student safety threat can submit a tip to OK2SAY program operators by phone, text message, email, mobile app, or via the OK2SAY website. Click on the logo below for additional information.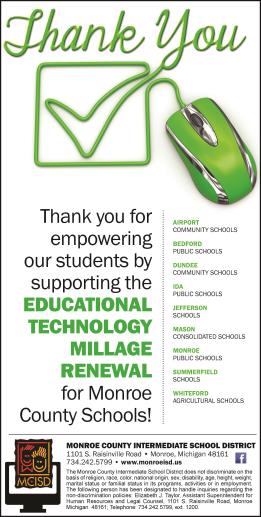 Spotlights
Eight HS Students Qualify for Region C Honors Choir
Congratulations to the following Whiteford singers for advancing to Region C Honors Choir! You are to be commended for this exciting accomplishment! Elizabeth Gozdowski (Soprano II), Taylor Yount (Soprano II), Harley Donally (Alto I), Chloe Walton (Alto II), Dylan Nelson (Tenor I), Adam Lenhart (Tenor II), Nathan Walker (Bass I) and Mike Iott (Bass II)
MS Students of the Month
The November Middle School students of the month are chosen by the middle school faculty based on a specific character trait for the month, with the month of November 2017 being "Respect". Recipients for the month are Keegan Masters (6th grade), Karmen Lipp (7th grade) and TJ Murray (8th grade). Congratulations!!