District Calendar
Calendar

‹

July

2018

›

S
M
T
W
T
F
S
1
2
3
4
5
6
7
8
9

Jul 9

6:00 PM to 8:00 PM

Board of Education Meeting

MS Board Room

Board of Education Meetings

10
11
12
13
14
15
16
17
18
19
20
21
22
23

Jul 23

8:00 AM to 1:00 PM

Volleyball Team Camp

MS and HS Gyms

District Calendar

4:00 PM to 5:30 PM

Youth Football Camp (grades 1-6)

Football Practice Fields

District Calendar

5:30 PM to 7:30 PM

MS Football Team Camp

Football Practice Fields

District Calendar

5:30 PM to 9:00 PM

HS Football Team Camp

FB Practice Fields

District Calendar

24

Jul 24

8:00 AM to 1:00 PM

Volleyball Team Camp

MS and HS Gyms

District Calendar

4:00 PM to 5:30 PM

Youth Football Camp (grades 1-6)

Football Practice Fields

District Calendar

5:30 PM to 7:30 PM

MS Football Team Camp

Football Practice Fields

District Calendar

5:30 PM to 9:00 PM

HS Football Team Camp

FB Practice Fields

District Calendar

25

Jul 25

8:00 AM to 1:00 PM

Volleyball Team Camp

MS and HS Gyms

District Calendar

4:00 PM to 5:30 PM

Youth Football Camp (grades 1-6)

Football Practice Fields

District Calendar

5:30 PM to 7:30 PM

MS Football Team Camp

Football Practice Fields

District Calendar

5:30 PM to 9:00 PM

HS Football Team Camp

FB Practice Fields

District Calendar

26

Jul 26

8:00 AM to 1:00 PM

Volleyball Team Camp

MS and HS Gyms

District Calendar

5:30 PM to 9:00 PM

HS Football Team Camp

FB Practice Fields

District Calendar

27
28
29
30
31
ORS 3% Healthcare Contributions Refund - updated 2/14/18 see respective links below
Given the Supreme Court ruling in December 2017, below is a link to the ORS Public School Employees Retirement System regarding the refund process; these FAQ's are being updated as new information is available. This ruling is only for public school employees who worked during July 2010 until September 2012 and contributed 3% toward retiree healthcare.
ORS Public School Employees Retirement System FAQ Page
FORMER District Employees and RETIREES click here
_______________________________________
OK2SAY is a confidential reporting system specifically designed to help students or anyone report potential harm or criminal activity directed at school students, school employees, and schools. Anyone that know about a student safety threat can submit a tip to OK2SAY program operators by phone, text message, email, mobile app, or via the OK2SAY website. Click on the logo below for additional information.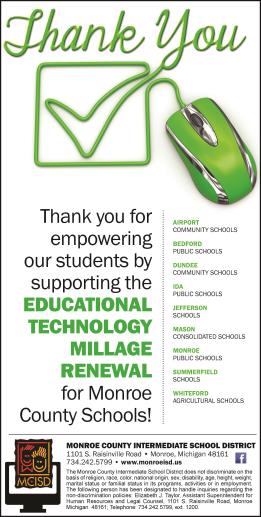 Spotlights
Eight HS Students Qualify for Region C Honors Choir
Congratulations to the following Whiteford singers for advancing to Region C Honors Choir! You are to be commended for this exciting accomplishment! Elizabeth Gozdowski (Soprano II), Taylor Yount (Soprano II), Harley Donally (Alto I), Chloe Walton (Alto II), Dylan Nelson (Tenor I), Adam Lenhart (Tenor II), Nathan Walker (Bass I) and Mike Iott (Bass II)
MS Students of the Month
The Middle School students of the month are chosen by the middle school faculty based on a specific character trait for the month, with the month of May 2018 being "Citizenship". Recipients for the month are Kolby Masserant (6th grade), Kennedy McInnes (7th grade) and Cole Giesige (8th grade). Congratulations!!
MS/HS Choirs Receive High Marks at State Festival
The HS Concert Choir received a solid Division I Rating of Excellent ...with 2 nearly perfect scores! The Chorale received a Division II Rating, with 2 of the 3 judges scoring them in the "I" range. The MS Concert Choir gave a wonderful performance, as well, but Middle School choirs don't receive an official rating at States. Their comments were a nice mix of I's and II's!